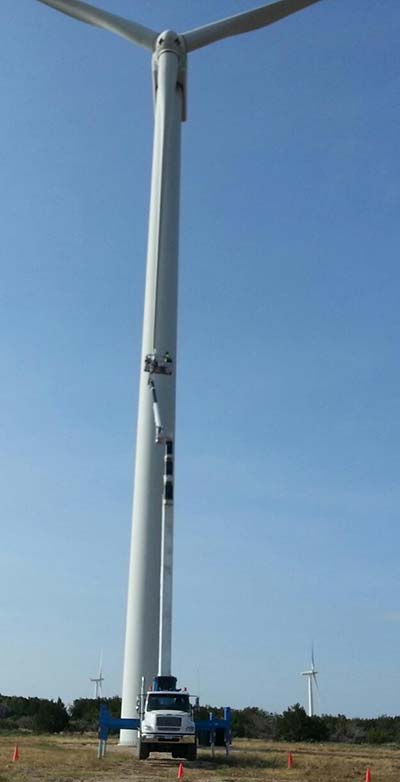 Meet the Socage TJJ230
Our Socage TJJ230  All Terrain Aerial Platform is the premier method for accessing all parts of a wind turbine. This platform is the largest aerial lift platform in the United States reaching up to 230 feet. supporting up to six workers at a time.
The Socage TJJ230 aerial platform boasts a 100 foot side reach. The lifting capacity of 1320 pounds and a man basket that can expand up to 12 ft. wide gives our customers the ability to utilize numerous tools at once.
Be At The Work Quicker
Our aerial platform can get your wind turbine back in production quicker than any type of rope access or suspended scaffolding because of its 15 minute time frame from set up to full height.
Fair Wind, LLC also has numerous tractel baskets available for rental. These baskets can be used to reach most parts of the wind turbines exterior. No matter what the size you may need, we have a cable system for all heights. This service gives the customer the ability to reach all parts of the blade for fiberglass repair.
Other applications are high torque, flange painting, cleaning, tower painting, tower repairs, etc.
We have 3 locations, nationwide.  We can be on your location quickly.