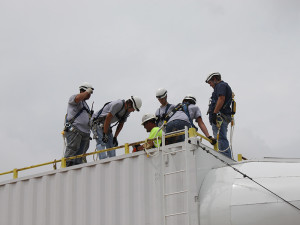 Worker safety training is one our highest priorities here at Fair Wind LLC. That is right along with the Environmental Friendliness, Quality, and the Customer satisfaction that we are known for. We pride ourselves in operating a safe and cost effective wind energy maintenance company.
 Worker Safety Training
 At Fair Wind LLC, we are vitally concerned with the safety of our workers as well as the safety of your workers that we may be working with. We screen our prospective employees to ensure we hire individuals with a good safety awareness. We want every member of our work teams to understand the value of coming home safely at the end of each job.
 Therefore, we take the most extensive steps in making sure our technicians are properly trained before introducing them into the field. Our technicians go through the most intensive worker safety training with our local wind energy training center.
Crane Safety
By the nature of the work they are required to do, today's cranes and aerial lift platforms are highly engineered, advanced pieces of equipment. Aerial work platforms like our Palfinger WT-1000 can lift weights of up to 1320 pounds to over 338 feet into the air and then expand out to 12 feet wide. The crews that run them and work with them have to be well-trained.  They must also have a proper safety attitude to always remain focused on the work at hand.
Fair Wind's employees go through an extensive  safety training program with the manufacturer of our aerial platform trucks in order to gain knowledge of every aspect of their use and safe operations.
Fall Protection
By the nature of our industry in general, working at great heights is sometimes taken for granted. Almost everything we do is way overhead. The Occupational Safety and Health Administration (OSHA) requires all workers be protected from fall exposure of only 6 feet or greater. (§1926.500) That is virtually everything we do. We train extensively in fall protection equipment and its proper use and the need for not becoming complacent about safety at the lower heights as well.
Hand Injuries
On a wind farm construction project, as well as maintenance jobs, hand injuries occur at a high rate compared to other injuries. It's a very hands-on occupation, obviously. It seems there are always surfaces with fiberglass burrs and sharp edges to injure a worker.
Complacency is a big contributor to hand injuries. A worker may pay close attention to hand placement during potentially hazardous tasks, and then not be as mindful during routine tasks. Sometimes just leaning on a turbine blade without first checking for fiberglass cracks can injure the hand. We constantly remind our workers to pay attention to everything.
 Housekeeping    
 Housekeeping is just a way of saying "keep your work area clean". We train and reinforce our employees about the necessity of keeping the area clean, uncluttered, and the tools properly tied off.
 Trained Trainers
 Our wind energy specialist trainers on staff are knowledgeable of the latest industry standards of worker safety training. It is important to us keep our technicians informed of new and improved techniques and methods that may prove to be lifesaving in the field. We sincerely believe our approach to  worker safety training has been vital part of our success.
 Our trainers utilize simulators and actual tower scenarios. Fair Wind LLC technicians are trained on the use of special tools and maintenance procedures with a strong emphasis on safety and rescue equipment at height.
Give us call about your next Wind Farm Maintenance job.  Fair Wind LLC, can be there fast, get the job done fast, and do it all in a safe efficient manner.