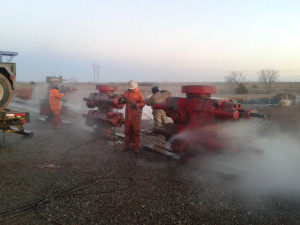 Oil and Gas Industry Maintenance and Cleaning
Equipment cleaning and lots of it is a huge part of any oil and gas industry maintenance program.  Fair Wind LLC uses high-pressure, heated water and our safe, environmentally friendly cleaning compounds to get your drilling and fracturing equipment looking like new.
After a thorough power washing to remove drilling mud grease, grime, and general gunk from your equipment, everything can operate more efficiently and certainly look way better.
Clean? In The Oilfield?
While obviously, clean isn't everything in the oilfield, maintaining clean, mud free equipment does goes a long way toward improving safety conditions for workers.  it also can help to impress potential investors and new clients.
Fair Wind, LLC is available nationwide for a variety of maintenance and cleaning services for the oil and gas industry.  We can take care of fracturing equipment and drilling mud covered equipment on remote drilling locations or in your yard.  Our team is trained to handle the most sensitive of drilling equipment.
Fast Service
Fair Wind LLC is available 24/7 for rig cleaning, waste oil removal, contaminated soil remediation and other vital services.  Our crews work around the clock on your location.  With locations strategically located nationwide, we can be on your location fast.